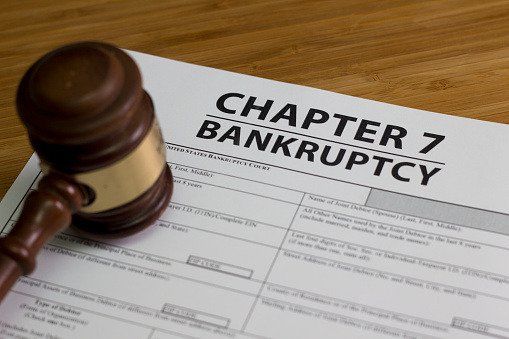 Benefits of Hiring a Chapter 7 Bankruptcy Attorney in Tempe, AZ
Rock Law Firm
When financial difficulties arise, the prospect of declaring bankruptcy can be frightening. Filing for bankruptcy is a legal process that entails a significant amount of paperwork that can be confusing and difficult to understand. That is why it is critical to hire a qualified Chapter 7 bankruptcy attorney in Tempe, AZ, who understands the bankruptcy law and can act as your bankruptcy trustee.
Furthermore, while filing for bankruptcy may be the best way to help you get out of debt and improve your overall financial situation, it may not be the best option for you. But with the help of a knowledgeable and experienced bankruptcy lawyer, you can be assured you are making the best decisions for your financial future.
The advantages of hiring a Chapter 7 bankruptcy attorney are numerous, ranging from assisting you in determining whether bankruptcy is the best option to assisting you in filing a bankruptcy petition.
In this article, we'll go over some of the advantages of hiring Phoenix bankruptcy lawyers to represent you during this difficult time.
An  Experienced Bankruptcy Attorney Will Help You Explore the Best Option for Your Situation
Before making any final decision about how to handle your debt, a good lawyer will help you understand your options. They will provide useful information on how various types of bankruptcy affect your credit score and what types of debts are eligible for relief through this process.
They may also be able to recommend other debt-reduction options, such as debt management programs or debt consolidation through chapter 13 bankruptcy. Debt consolidation is a type of Chapter 13 bankruptcy. You can keep your property during this process while negotiating with your creditors to repay what you owe over the course of three to five years.
During this time, you will be required to make monthly payments. Any remaining balance will be discharged at the end of the plan, and your debts will be considered paid in full. If your state income is lower than the national average, you may be eligible for Chapter 7 bankruptcy rather than Chapter 13.
Chapter 7 Bankruptcy allows people who are unable to make their debt payments to seek court protection from creditors by liquidating nonexempt assets and distributing them among their creditors in accordance with the law's priority rules.
A Skilled Attorney Will Help You Avoid Common Mistakes
As you might expect, hiring an experienced attorney is critical to navigating Chapter 7 bankruptcy successfully. It's not just about avoiding common blunders. It is also important to ensure that your case proceeds smoothly and that it is completed in the shortest amount of time possible.
A knowledgeable attorney will assist you in ensuring that all paperwork is properly filed and that all deadlines are met. If you miss a deadline or make an error on your paperwork, the consequences can be severe. Due to procedural flaws, your case may be delayed unnecessarily or even dismissed entirely, requiring you to start over with new fees and filing costs.
Dealing with Creditors
When declaring bankruptcy, you must understand how to deal with your creditors. A good lawyer will provide legal credit counseling to assist you in developing a payment plan.
They will also negotiate with creditors so that they do not try to sue you or take advantage of you if you are unfamiliar with the legal framework governing your financial situation. This is especially useful if you're dealing with unsecured debts like medical bills.
Chapter 7 Bankruptcy Attorneys Can Save You Money
Many people are unaware that a Chapter 7 bankruptcy lawyer can assist them in saving money, but it is true. There are numerous situations in which a lawyer can provide valuable financial guidance and advice, for example:
You may be unaware of how much debt is dischargeable under Chapter 7. A lawyer can advise you on which debts can be discharged and how much the creditor will accept as payment.
You may also be unaware of how much it costs to file a Chapter 7 case, which includes a variety of fees and costs. A lawyer can provide an estimate based on the facts of your situation (such as whether you filed taxes for one or two years).
You may be unaware of what assets can be sold and preserved before or after declaring bankruptcy in order to raise funds to pay off creditors' claims against you (such as money held by banks or retirement accounts).
Finally, the experience and expertise provided by a qualified attorney can be invaluable to anyone experiencing financial difficulties in Arizona.
Hiring a Phoenix Bankruptcy Lawyer Will Give You Peace of Mind
Hiring an Arizona Chapter 7 bankruptcy lawyer can provide you with peace of mind because you will have an experienced professional representing you and your best interests throughout the bankruptcy process. A Chapter 7 bankruptcy attorney can advise you on your debt relief options and help ensure that your rights are protected during this stressful time in your life.
An attorney will also walk you through each step of the process from start to finish, ensuring that nothing is overlooked or forgotten.
Contact Rock Law Firm for Practical Debt Resolution
Filing for Chapter 7 bankruptcy is a major decision that should not be taken lightly. It has long-term implications and is about more than just getting out of debt. It is a legal process that should be handled by experienced Phoenix bankruptcy attorneys who can help you understand all of your options, the risks involved, potential Arizona bankruptcy exemptions, and how to proceed.
At Rock Law Firm, we can assist you in getting out of debt as soon as possible while minimizing the impact on your credit rating and future finances. We can advise you on how to deal with creditors and other debts owed by your business or personal assets, as well as help you prepare paperwork. We can also inform you of any potential pitfalls or risks associated with filing for Chapter 7 bankruptcy, such as whether it will harm your future credit scores, so there are no surprises when all is said and done. We will also make certain that all of your paperwork is filed correctly and on time. Call us today at (480) 613-9690, so we can discuss your case and available options.