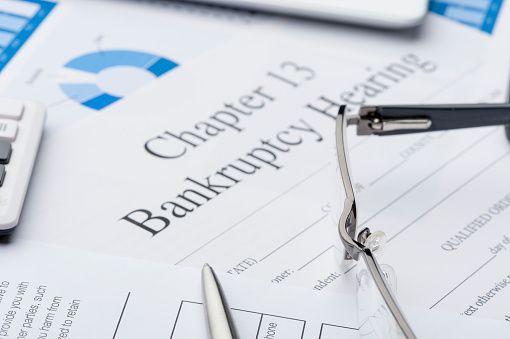 How Can a Chapter 13 Bankruptcy Attorney Help Save a Business?
Rock Law Firm
If you are a single owner of a business that needs debt relief, Chapter 13 bankruptcy can assist you in reorganizing your debts and saving your business. You can put all your business debts in Chapter 13 bankruptcy as you, the sole trader, are personally liable for the debts. Also, some partnerships can qualify for Chapter 13 bankruptcy.
How Does Chapter 13 Bankruptcy Work?
Chapter 13 bankruptcy lets you keep your assets as you reorganize and pay off all or part of your unsecured debt using a repayment plan. It can last 3 to 5 years. The bankruptcy court will assign a bankruptcy trustee to be in charge of your case, where you make your payments monthly, and the trustee is going to pay all of your creditors depending on your plan.
The payments will depend on your expenses, income, and the kind of debt you may have. If you have a higher income, the bankruptcy court will require you to pay more. However, despite your income, you must pay priority debts fully throughout your plan. They include some taxes and obligations for domestic support.
If you cannot show that your income is enough to pay back the debts fully and other payments, you may not be capable of reorganizing via Chapter 13 bankruptcy. After your repayment plan, the remaining dischargeable debt balance will be forgiven.
Benefits of Chapter 13 Bankruptcy for Small Business Owners
Chapter 13 bankruptcy can assist in keeping any small business running and has many other benefits, including the following:
Keep your Business Assets
The bankruptcy filers can exempt some items required to keep and maintain employment and a home. This is good, as most business owners require equipment and other kinds of property to work. One of the benefits of Chapter 13 bankruptcy is that the business owner can keep all the exempt and nonexempt assets, but at a cost.
Exempt Business Property - The exemption preserves business assets up to a specific dollar value. Several exemption statutes will let you choose the property you want to keep, but it must be considered necessary for your work. For example, if you are a plumber, you will need plumbing tools and a truck.
Nonexempt Business Property - Chapter 13 bankruptcy lets you keep your business's nonexempt assets as you restructure and settle your unsecured debts. But remember that you will pay for nonexempt assets' value in your plan.
If you are a single owner, your debts are not differentiated from your business debts. You will put every debt you owe in bankruptcy and pay the smallest amount of debt not secured by your collateral, such as utility bills, credit card balances, unpaid invoices, and medical bills. You will get a discharge of the qualifying balances after the repayment plan's completion, and the creditor will not collect from the business or you.
Settle Your Crucial Creditors
If you have priority debts like taxes in your business, you can include them in the repayment plan when you are a single owner or are liable for them personally.
With the Chapter 13 plan, an individual can lower the balance of some secured debts, like a car or regular mortgage payments, to the value of their assets. This can reduce the load on your venture by combining the loans in your payment plan and reducing the monthly payments.
The Importance of Hiring a Chapter 13 Bankruptcy Lawyer to Help File for Bankruptcy
They Understand the Legal Process
You might not have dealt with bankruptcy law and procedures. However, bankruptcy attorneys understand bankruptcy law. You might need to file a document when trying to file for Chapter 13 bankruptcy, or you might miss a deadline that can delay your case. You will need an attorney to get you through the process quickly. The bankruptcy attorneys will give you the knowledge to secure your business when you go through bankruptcy.
They will assist you in meeting the deadlines and understanding the whole process because they do not have to do research, therefore saving you time.
They Deal With Your Unsecured Creditors
Dealing with creditors can make you anxious to answer the phone or check your emails. However, if you hire an attorney to deal with your bankruptcy, you will not get letters from creditors because the lawyer will deal with them.
Your stress levels will be reduced when working with a bankruptcy lawyer. You will give your creditors the lawyer's contact information if they call. The attorneys will contact your creditors, and therefore, they will not harass you.
It Will Save You Money
Hiring a bankruptcy lawyer will eventually help a business owner save money and not cost you more on the filing fee. The bankruptcy attorney will assist you in getting the court results and help you go through the process faster than when you try to do it yourself.
The Probability of Them Succeeding Is Very High
Bankruptcy attorneys already understand all the tips and tricks they need to succeed. Your attorney can assist in creating a captivating and insightful response modified to the judge's experience, history, and understanding.
An ambitious bankruptcy lawyer's knowledge, experience, and talents cannot be measured. Knowing the bankruptcy process, an experienced lawyer will handle your case and make it quick and easy.
A Reputable Bankruptcy Lawyer Offers You Peace of Mind
It can be stressful to deal with bankruptcy because it increases your stress levels. Your financial stability has been strained already, but a bankruptcy lawyer will help you. You will have peace of mind knowing that he will take care of the process.
Do You Want to Learn More About How Chapter 13 Bankruptcy Can Save Your Business?
In Chapter 13 Bankruptcy, you can keep your business property as you reorganize and settle your creditors. If you keep your business assets, you can keep your business running and making income.
Filing for a Chapter 13 bankruptcy as a business owner has some complications. To protect your business interests, you should consult a Chapter 13 Bankruptcy attorney like Rock Law Firm who knows the bankruptcy laws and Bankruptcy court practices. Get the professional help you require at 480-613-9690 to book an appointment today.