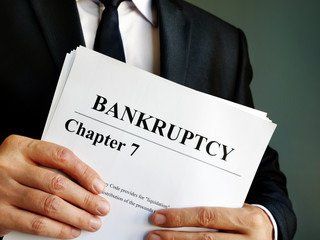 How Chapter 7 Bankruptcy Works for Business in Phoenix, AZ
Rock Law Firm
Phoenix businesses' biggest challenge is fixing financial system inconsistencies, not finding new customers. Many companies try to solve these issues on their own, but sometimes there isn't enough money to stay in business. Chapter 7 bankruptcy may be the best way for businesses with secured debts to get out of this unfortunate and all too common situation. This article discusses how businesses can benefit from bankruptcy, the bankruptcy process, and filing bankruptcy.
What is Chapter 7 Bankruptcy?
Chapter 7 bankruptcy is a type of insolvency proceeding that provides business owners in Phoenix, with the opportunity to liquidate their assets and have their debts discharged. In this process, an appointed trustee takes control of the business's assets and sells them in order to repay creditors. This can be a difficult decision to make as it involves closing the business while also creating negative marks on one's credit score. But it is often thought to be the best choice for businesses that are having a hard time and can't pay back their debts.
It can be hard to decide to file for Chapter 7 bankruptcy because it means leaving a business and accepting that you have lost money. Chapter 7 bankruptcy, on the other hand, is a useful tool for businesses seeking financial freedom and debt consolidation. It also enables businesses to reorganize in order to overcome temporary financial difficulties.
Overall, the decision of whether or not to pursue Chapter 7 bankruptcy should be made on a case-by-case basis for each individual business in Phoenix, AZ, , The potential benefits of doing so must be carefully weighed against the costs and setbacks associated with taking this step before making a final decision.
How Does a Business File for Chapter 7 Bankruptcy?
When filing for Chapter 7 bankruptcy, it is important to understand the legal and financial implications and your rights. Applying for Chapter 7 bankruptcy can be a pretty simple process, but businesses in Phoenix, AZ, need to make sure they meet the requirements and file the paperwork correctly before they start. Finding an accredited attorney who has guided businesses through Chapter 7 bankruptcy is the first step. Businesses face creditors and debtors who are equally determined to protect their interests. A lawyer with experienced in bankruptcy laws can help protect individuals from litigation displaced by a debtor's miscalculations or misinformation.
Along with choosing a lawyer, you should assess your financial situation. Businesses must understand Chapter 7 bankruptcy's dischargeable debts and exempt assets and income streams. This is hard without a mediator. Finally, Chapter 7 bankruptcy requires filing forms and paperwork with the local U.S. Bankruptcy Court in Phoenix, AZ, and any Arizona state offices where past debts have accrued. It is wise to do research beforehand regarding which debts fall under Chapter 7 as different states may have differing criteria and regulations as to whether creditors will accept this method of debt discharge, as certain types of debt may not qualify.
Businesses can stop foreclosure or other legal actions by creditors or debtors by filing for Chapter 7 bankruptcy. Rock Law Firm can help businesses make informed financial decisions when entering into this type of agreement. These businesses can avoid overwhelming debt and legal issues from unpaid borrowers by filing for Chapter 7 bankruptcy with forethought and preparation.
Steps for Filing
Businesses must take several steps to file for Chapter 7 bankruptcy and consult an Arizona bankruptcy lawyer first. An attorney will walk the business through the process. After hiring an attorney, the business must gather financial documents proving debt, assets, and income. They should also submit a petition and financial statement to their local bankruptcy court.
Business owners may struggle to decide whether to file for Chapter 7 bankruptcy. The process allows businesses to discharge debt and start over. However, filing for Chapter 7 could hurt a company's credit score and relationship with creditors. Before filing for bankruptcy, business owners should seek professional advice and weigh the pros and cons.
What Happens After Filing for Chapter 7 Bankruptcy in Phoenix, AZ?
Once a business in Phoenix, AZ, has decided to file for Chapter 7 bankruptcy, the attorneys will guide them through the filing process. After filing their petition, the debtor must go to a meeting of creditors with the bankruptcy trustee in charge of their case. This is usually held within forty days of when the petition was filed. At this meeting, the business owners will take an oath and answer questions posed by the trustee to ensure that all information provided on their financial status is accurate. They are typically asked questions about how they came to file for bankruptcy and if any assets have been sold or transferred prior to filing.
During Chapter 7 bankruptcy, the trustee will look into any assets that are not protected by state law and must be sold, such as jewelry, art collections, and other valuable items. These assets are not exempt from liquidation and cannot be protected from creditors. These assets may be sold to pay creditors. The trustee will also ask if the business made any preferential payments to any creditor within 90 days of filing for bankruptcy.
Liquidating non-exempt assets is debated. Opponents argue that selling valuable assets to pay the debt could put an organization in deeper financial trouble if it loses access to resources and working capital. However, liquidating non-exempt assets can help businesses survive past mismanagement or excessive debt by freeing up cash flow to pay remaining debtors and allowing operations and employees to continue.
After this meeting of creditors, creditors can say they don't agree with a debt being forgiven or other things that have to do with bankruptcy. If a business owner files for bankruptcy and no objections are made or approved by a judge within sixty days, all of their debts are automatically erased.
Role of the Bankruptcy Trustee
The role of the bankruptcy trustee in Phoenix, AZ, is a very important one. The trustee has the overall responsibility of administering and managing bankruptcies in this region. During Chapter 7 bankruptcies, the Trustee examines each debtor's financial situation to determine whether there are any assets available for creditors. Furthermore, the trustee makes sure that creditors receive their proper payments and that debts are discharged appropriately.
The trustee's role is to benefit everyone, but every coin has two sides. Many business owners believe a trustee protects them from unfair practices and ensures creditors are paid correctly. However, this additional oversight may scare some businesses. Based on these arguments, the role of Phoenix, AZ, as the bankruptcy trustee must be balanced.
What is the Discharge of Debts Under Chapter 7 Bankruptcy?
Discharge of debts Under Chapter 7 bankruptcy, qualifying individuals or businesses have their debts completely and permanently discharged. If a debtor qualifies for Chapter 7 bankruptcy, all dischargeable debts are discharged at the end of the process, giving them a financial fresh start. Credit card debt, medical bills, mortgage debt, personal loans, and other unsecured debts. Businesses can also use this type of bankruptcy to discharge any outstanding liabilities that cannot be paid during or after the coronavirus pandemic while transitioning out of financial distress.
Chapter 7 bankruptcy has pros and cons. It can help debtors by reducing their payments. After the discharge, bankrupt debtors can start rebuilding their credit and stop worrying about creditors harassing them and garnishing their wages. However, bankruptcy is extreme, severely damages a person's credit score, and can make it difficult to get loans from many lenders.
Chapter 7 bankruptcy can still help Phoenix businesses that have too much debt because of bad financial decisions or bad market conditions. Businesses in Phoenix, AZ can benefit from Chapter 7 bankruptcy.
What are the Benefits of Chapter 7 bankruptcy?
Chapter 7 bankruptcy is an option for Phoenix, AZ, businesses that are having trouble making ends meet and need their debts forgiven or restructured. The owners of a business should know that Chapter 7 has some benefits and could also have some drawbacks.
It can give you a chance to start over, get your finances under control, and become eligible for new financing or loan restructuring options. At the same time, filing for Chapter 7 poses serious risks because it can negatively affect one's credit score and limit their options when taking out a loan to start another business venture.

Chapter 7 allows unsecured debts like credit card bills and medical bills to be discharged. This frees up working capital for daily business operations.

Chapter 7 bankruptcy also lets entrepreneurs reduce their liabilities without having to pay them back. After a bankruptcy discharge, entrepreneurs can rebuild their businesses.

Chapter 7 bankruptcy protects your business from being evicted or foreclosed on, and it stops unsecured debt collectors from coming after you. It stops wage garnishment and gives you time to settle remaining debts at an affordable rate.

filing for Chapter 7 bankruptcy allows business owners to keep their non-exempt assets, unlike other bankruptcies. However, bankruptcy does not eliminate all debts and may make future financing harder. After bankruptcy, student loans and child support must be paid, but mortgages, car loans, and taxes may require negotiation before being forgiven.

Creditors often contest Chapter 7 bankruptcy filings in court, which can delay recovery. Even though chapter 7 bankruptcy has some downsides, it has helped many Phoenix, Arizona, businesses get back on their feet financially and get rid of their debts. Entrepreneurs must understand the benefits of this type of bankruptcy before starting their financial recovery.
Contact Rock Law Firm for Chapter 7 Bankruptcy Consultation
When business owners in Phoenix, AZ, are having trouble staying afloat, they may want to file for Chapter 7 bankruptcy. With this type of bankruptcy, business owners can get rid of their debts and start over. It is important to note, however, that this form of bankruptcy comes with certain drawbacks, such as the liquidation of all non-exempt assets and a negative impact on one's personal credit score.
If a business owner is thinking about filing for Chapter 7 bankruptcy, it is very important that they know how the process works and what will happen as a result. Asking a bankruptcy attorney like Rock Law Firm for advice can be a great way for business owners to figure out if Chapter 7 bankruptcy is the right choice for their business. Contact us today for consultation!