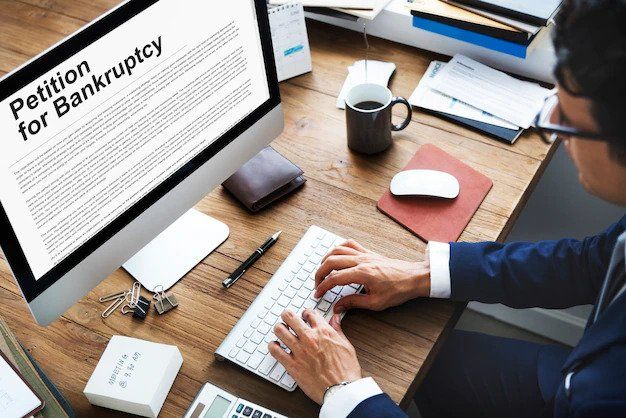 How Do I Know When to File Chapter 7 Bankruptcy?
Rock Law Firm
In the United States, Chapter 7 bankruptcy is a common legal tool that allows you to discharge many debts, including medical debt, car loans, credit card debt, and payday loans. Before filing for Chapter 7 bankruptcy, consider whether you have more debt than you can ever repay, taking into account your property and current income. If you answered yes, declaring bankruptcy may be your best option.
What is Chapter 7 Bankruptcy?
Chapter 7 bankruptcy is viewed as a second chance to reclaim control of your finances by having the majority of your unsecured debts, such as unpaid medical bills, personal loans, and credit card debt, legally discharged by a bankruptcy court.
This is also known as "liquidation bankruptcy," and it is the most basic, common, and fastest type of bankruptcy. Except for student loans, child support, alimony, and tax debt, Chapter 7 bankruptcy discharges virtually all debts.
How Does Chapter 7 Bankruptcy Work?
Before filing for chapter 7 bankruptcy, you will need to fill out legal forms detailing how much you spend, earn, own, and owe. Furthermore, if you are employed, you will submit to the bankruptcy court these bankruptcy forms, a credit report, recent tax returns, and pay stubs.
After submission, a bankruptcy trustee will then review your financial documents and bankruptcy forms. They will ask some basic questions about your present financial situation. After a few months, you will get a mail informing you that the court has granted your request.
Dischargeable Debts Under Chapter 7 Bankruptcy
Some dischargeable debts under Chapter 7 bankruptcy include the following;
Medical bills

Payday

Collection of agency accounts

Credit card balances, including late and overdue fees

HOA fees

Automobile loans Mortgage that you are unable to pay

Utility bills

Veterans' overpayments and assistance loans

Social security overpayment

A civil court judgment that is not based on fraud
Non-dischargeable Debts Under Chapter 7 Bankruptcy
On the other hand, non-dischargeable debt under Chapter 7 bankruptcy includes the following:
Unsecured debts that are intentionally unaccounted for in your forms

Student loans

Alimony

Personal injury debts owed from an event that happened as a result of intoxication

Tax debts that are at about 240 days old and meet other restrictions

Secured debts
Who Is Eligible for Chapter 7 Bankruptcy?
No matter how bad your financial situation is or how desperate you are, Chapter 7 bankruptcy may not be your best option. Before the court can approve a Chapter 7 bankruptcy filing, applicants must first clear a number of hurdles. Among these are the following:
Applicant must have completed a debt counseling course with an approved agency, such as nonprofit credit counseling agencies, no more than 6 months before filing bankruptcy Chapter 7.

You must not have a record that you filed Chapter 7 bankruptcy within the last eight years

You must have any record that you filed Chapter 13 bankruptcy within the last six years

Anyone who has filed Chapter 7 or Chapter 13 bankruptcy and the cases dismissed must wait at least 6 months before another filing

Filers must also undergo a mean test of financial scrutiny. Either your average monthly income for the initial six months is less than the median income for a household of similar size in your state, or you pass a means test to determine if you have sufficient disposable income to make partial payments for some debts.

Applicants who failed the means test may still be able to file for Chapter 13 bankruptcy

Finally, it doesn't matter if you are proceeding with your filing; if the court discovers that you are tempted to defraud your unsecured creditors, the court may dismiss your case based on substantial evidence.
How Do You Know When to File for Chapter 7 Bankruptcy
After all, declaring Chapter 7 bankruptcy may be the best option. However, successfully repaying your debts will now have a long-term impact on your financial future. As a result, don't rush into filing. Before making your final decision, make certain that you have thoroughly examined all of the warning signs.
It is a common misconception that when there is a sign of trouble, couples and individuals should file for Chapter 7 bankruptcy. When you have exhausted all other options for debt repayment, you may consider filing for Chapter 7 bankruptcy as a last resort.
If you've tried talking to your creditors, seeing a credit counselor, and even consolidating your debt, but you're still having trouble managing it, it might be time to consider Chapter 7 bankruptcy.
Chapter 7 bankruptcy acts as a temporary pause for some of your debt. When you file a bankruptcy petition, some of your creditors could temporarily be stopped for most collections against you. Although, it can ultimately mean that you lose some assets. However, bankruptcy laws vary from state to state, and each state classifies exempt and nonexempt property differently.
Here are five signs that indicate that it might be time to file for Chapter 7 bankruptcy
Your unsecured debts are more than half of your annual income.

It might take about five years or more to pay off your debt.

Your debts are creating too much stress in some important aspects of your life, including the ability to focus at work, sleep, and relationships.

Even with your efforts to follow a strict budget, you still have little to no disposable income.

Your monthly income is far below the median level in your state.
Why Do You Need the Rock Law Firm?
The decision to file Chapter 7 bankruptcy is based on your current financial situation and the options available to you. Filing for Chapter 7 bankruptcy is a legal proceeding that can result in the loss of your assets, cash, and valuable property.
Therefore, it is recommended that you take a credit counseling course with an approved credit counseling agency or schedule a free evaluation with a bankruptcy attorney. This will give you the basics to know your options. A knowledgeable and experienced bankruptcy lawyer Rock Law Firm can provide tailored advice based on your circumstances.
Our skilled, experienced legal team at the Rock Law Firm of Phoenix uses the power of the rock of justice to help you stop creditor harassment and find the solutions you require. We offer judgment-free bankruptcy assistance with no-money-down financing because we understand that life is unpredictable and that circumstances can change. Contact us today to schedule a free consultation.