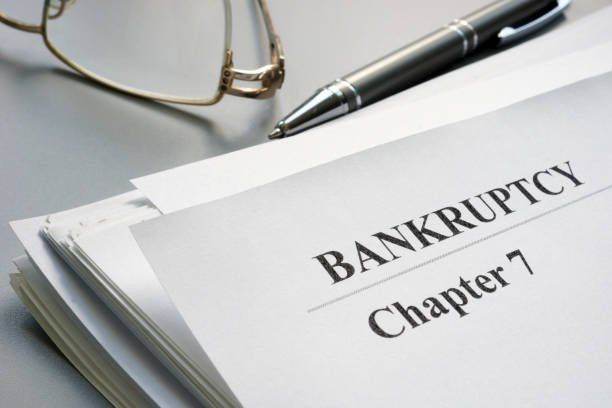 The Process of Chapter 7 Bankruptcy in Arizona
Rock Law Firm
Financial problems, whether personal or business-related, can be so upsetting that you are unsure of what to do next. As an Arizona resident, you should look into Chapter 7 bankruptcy to see if it can help you get out of debt. Bankruptcy is a legal process that allows business owners, couples, or individuals to discharge all or a portion of their debts. This legal action is overseen by the federal bankruptcy court.
A bankruptcy court will legally discharge the majority of your unsecured debt, medical bills, personal loans, and credit card debt in a Chapter 7 bankruptcy, giving you more control over your finances. The bankruptcy process can be so complicated that the average person should not attempt to handle it without the assistance of a bankruptcy attorney. An experienced and knowledgeable attorney will follow bankruptcy rules and guidelines to ensure the process runs as smoothly as possible.
At Rock Law Firm, our bankruptcy attorneys assist residents of Tempe, Arizona, and the surrounding areas in resetting their financial outlook by guiding them through the Chapter 7 bankruptcy process. It would be beneficial if you did not waste so much time figuring out how to get started when you could hire a professional attorney from our law firm to guide you through your case and assist you in succeeding.
How Does Chapter 7 Bankruptcy Work In Arizona?
Chapter 7 combines federal bankruptcy laws and local court rules. For good reason, it is the most common type of bankruptcy in Arizona. In most cases, it only discharges unsecured debts after 4-6 months. However, before you make a final decision, you should be aware of its consequences and understand that it rarely discharges alimony, child support, student debts, or tax debts. If you file Chapter 7, you will be protected from your creditors in the meantime. Furthermore, after you have discharged your debts, the former debtor may start over financially.
Dischargeable debts under Chapter 7 include:
Credit card balances (including overdue and late fees)

Medical bills

Collection agency accounts

Personal and payday loans (unsecured)

You are unable to pay off your mortgage or car loan. Therefore, giving access to creditors to reclaim the house or vehicle

Civil court judgments (basically not fraud)

Social security overpayments

Utility bills

Veterans' assistance loans and overpayments.

Non-dischargeable debts, according to the U.S bankruptcy code under Chapter 7, include:

Child support

Alimony

Student loans

Unsecured debts that you knowingly omitted from your filing

Personal injury debts sustained due to an incident when you were drunk.

Tax liens

Secured debts

Note: You must demonstrate extreme hardship if you want to discharge a student loan.

Nonetheless, beginning the Chapter 7 process necessitates the filing of numerous documents and the payment of numerous fees, unless filers qualify for low-cost bankruptcy.
When Can You File for Chapter 7 Bankruptcy?
If creditors are harassing you and seizing your earnings and bank accounts, and you have no other way to pay your bills, you may want to file for Chapter 7. If all other options for debt repayment have been exhausted. Now is the time to consider declaring bankruptcy as your next step. However, successfully repaying your debts will have a long-term impact on your financial situation. Keep your cool and avoid making rush decisions.
Before you make your final decision, make sure you've carefully looked at the five red flags that show you may be better off filing for Chapter 7.
Your unsecured debts take more than 50% of your yearly income.
Even if you took drastic measures, it would still take you five years or more to pay off your debt.
Your debt causes critical stress in essential aspects of your life, including your quality of sleep, your ability to concentrate at work, and your relationships.
Your monthly earnings do not measure the median level in your state.
Your disposable income is minimal to nonexistent despite your best attempts to stick to a budget.
Steps to Filing a Chapter 7 Bankruptcy
You are aware that if you do not take preventive measures, bankruptcy may have a negative impact on your credit report and your future ability to obtain credit in the long run. Hiring a professional bankruptcy attorney increases your chances of success in your Chapter 7 bankruptcy filing.
You should consult with an attorney to go over the potential consequences of filing bankruptcy forms. An automatic effect will take place once you have an attorney by your side.
You can direct creditors to their offices, and creditors will no longer be able to sue you because you took action to file a petition against them. Creditors will be unable to garnish your wages or contact you about your obligations.
You have below the possible steps you can follow:
The debtor will be required to fill out a form containing their records, such as income, assets, expenses, liabilities, and overall financial situation, as well as any active contracts or leases in their name, at the start of the process.
You must go through pre-bankruptcy credit counseling, which is provided by an approved credit counseling agency. A certified counselor will also look into the debtor's financial situation to see if there are any less drastic options, such as a debt management plan, debt settlement, or debt consolidation.
If declaring bankruptcy is the best option for you, you or your lawyer must take the completed paperwork to the nearest bankruptcy court and file a bankruptcy petition.
After that, a bankruptcy trustee will come to your house to make sure your paperwork is correct and to ask for copies of your bank statements, tax returns, pay stubs, etc.
If the trustee and creditors decide to pursue the debts you are attempting to discharge, they will meet with you next. It is your responsibility to respond to any inquiries about some of your documents.

Next, be cautious if you make any promises about secured debt. Also, if the trustee finds out that you own nonexempt property that you can't protect, you may have to give it up or give the trustee cash or property that is worth the same amount.
Consult with Rock Law Firm for Chapter 7 bankruptcy
Our qualified bankruptcy attorneys at the Rock Law Firm are prepared to release you from the crushing debts that are effectively sucking the life out of you. We make it simple for you to put a stop to creditors. Contact us today to learn more about how we can help you.